Mezco 14" Lion-O and Snarf 2 Pack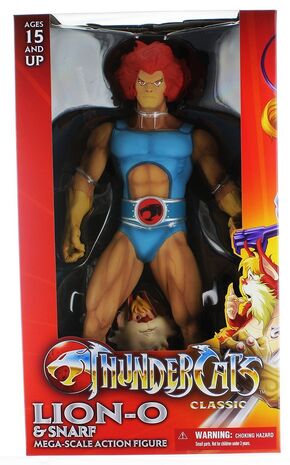 Official BlurbEdit
"ThunderCats Ho! Straight from the ThunderCats' Lair on Third Earth, it's Lion-O and the legendary mystic Sword of Omens".
Product DescriptionEdit
This mega-scale figure measures over 20 inches tall from the tip of his upraised, extended sword to the soles of his Thunderian boots.
Featuring 7 points of articulation this mega figure is superbly detailed, perfectly capturing not only the iconic look of Lion-O as he appeared in the classic television series, but the essence, of Lion-O as he proudly raises the mystic Sword of Omens towards the heavens and roars out "Thundercats, Ho!" He comes complete with his impressive Claw Shield and a removable mystic Sword Of Omens.
Snarf, the comedic yet fiercely loyal sidekick of the ThunderCats, stands a snarfing 5 inches tall (in scale with the rest of Mezco's ThunderCats Series) and snarfs a snarfity snarf snarf.
Lion-O and Snarf are packaged in a collector friendly window box that allows them to be displayed while remaining Mint In Box.
Notes of InterestEdit
Loose Mezco 14"
Lion-O and Snarf
Ad blocker interference detected!
Wikia is a free-to-use site that makes money from advertising. We have a modified experience for viewers using ad blockers

Wikia is not accessible if you've made further modifications. Remove the custom ad blocker rule(s) and the page will load as expected.