Mezco 14" Mumm-Ra Glow-in-the-Dark 2 Pack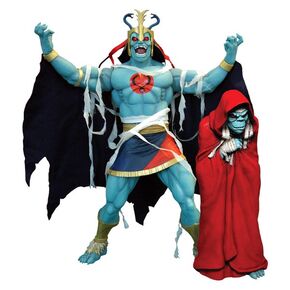 Official BlurbEdit
"This Summer Exclusive features a glow-in-the-dark, blue-skin Mumm-Ra and comes packed with his decayed form version, created from an entirely new sculpt, showing him in his decrepit natural state".
Product DescriptionEdit
Normally old and decrepit, he transforms himself into the powerful Mumm-Ra the Ever Living by reciting the incantation "Ancient spirits of evil, transform this decayed form to Mumm-Ra, the Ever-Living!" Based on the the original ThunderCats animated series, this mega-scale figure is 14" of evil ancient fury!
Mezco's Mumm-Ra is superbly detailed, perfectly capturing not only the iconic look of Mumm-Ra the Ever Living as he appeared in the classic television series, but the essence of his villainy as he spreads his arms wide and swears to destroy Lion-O.
Mumm-Ra features 8 points of articulation as well as a real cloth cape and bandages. Both come packaged together in an oversized collector friendly box.
Ad blocker interference detected!
Wikia is a free-to-use site that makes money from advertising. We have a modified experience for viewers using ad blockers

Wikia is not accessible if you've made further modifications. Remove the custom ad blocker rule(s) and the page will load as expected.