Mezco 14" Phasing Tygra Figure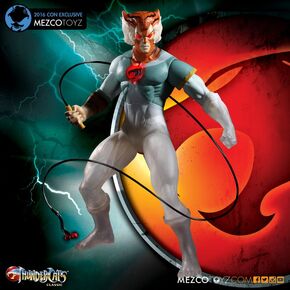 Official BlurbEdit
"It's Tygra, the architect, scientist, and warrior of Third Earth!"
Product DescriptionEdit
This Mega Scale figure measures over thirteen inches tall, in scale with the rest of the Mezco ThunderCats line.
This variant exclusive features Tygra in mid-phase — that split second before he becomes invisible. In darkness of the jungle (or the living room) Tygra's eyes and chest symbol glow with fierce intensity as if to proclaim "Before this day is over, you will face your greatest fear!"
Featuring nine points of articulation, Tygra expressively flexes his calculated feline ferocity. Sculpted with superb detail and adherence to the classic television show's source material, this figure also includes his weapon of choice — the powerful Thundarian Bolo-Whip.
This figure is packaged in a collector-friendly window box that allows him to be displayed while remaining mint in box.
This variant of Tygra was released as a San Diego Comic Convention (SDCC) Exclusive was only.
Loose Mezco 14"
Phasing Tygra
Ad blocker interference detected!
Wikia is a free-to-use site that makes money from advertising. We have a modified experience for viewers using ad blockers

Wikia is not accessible if you've made further modifications. Remove the custom ad blocker rule(s) and the page will load as expected.