Mezco 14" Plush Snarf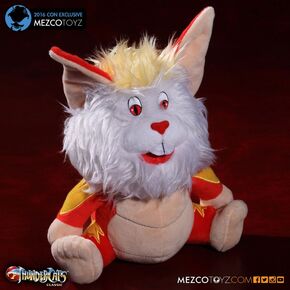 Product DescriptionEdit
Straight from Third Earth comes one of the most beloved members of the ThunderCats family — Snarf.
Originally the nursemaid to young Lion-O, Snarf became the comedic — yet fiercely loyal — sidekick of the ThunderCats as Lion-O grew older.
The Snarf plush stands a snarfing eight inches tall and comes with an informative hang tag. Huggable and soft, he is ready to snuggle and watch TV or stand sentry over a ThunderCats collection — while snarfing, of course.
Just like the Mega Scale Phasing Tygra Figure, the Plush Snarf was released as a San Diego Comic Convention (SDCC) Exclusive was only.
Notes of InterestEdit
The Mezco Plush Snarf is very similar in appearance and design to the LJN Plush Snarf which was made by LJN Toys in the 1980s. These two plush Snarfs are the only ThunderCats soft toys ever made by any toy company.
Ad blocker interference detected!
Wikia is a free-to-use site that makes money from advertising. We have a modified experience for viewers using ad blockers

Wikia is not accessible if you've made further modifications. Remove the custom ad blocker rule(s) and the page will load as expected.