Mumm-Ra and Ma-Mutt 3D Puzzle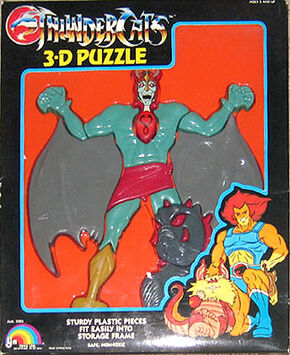 LJN Toys produced four 3D puzzles based on the ThunderCats cartoon show. Each of these puzzles featured main characters and/or vehicles or location from the show. The puzzle consisted of sturdy plastic pieces that would fit easily into the storage frame. They were somewhat similar to jigsaw puzzles but had fewer pieces and the pieces were 3D.
Ad blocker interference detected!
Wikia is a free-to-use site that makes money from advertising. We have a modified experience for viewers using ad blockers

Wikia is not accessible if you've made further modifications. Remove the custom ad blocker rule(s) and the page will load as expected.