Playful Hammerhand
Hammerhand was one of the first ThunderCats action figures produced by Playful Toys. The figure was based on the original 1980s cartoon version of Hammerhand.
Standing a solid 6 inches tall, the Hammerhand figure had action features as well as poseable arms, legs and head, thanks to 5 points of articulation.
1. Battle-Matic Action: Just like the LJN Hammerhand, the Playful version of this figure also had the Battle-Matic Action feature. Hammerhand's action feature was controlled by a lever located on his right arm. Pulling this lever with the finger would result in Hammerhand grabbing another figure in his massive right iron fist.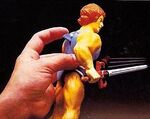 2. Poseable limbs and head: The Hammerhand figure had 5 points of articulation, 2 at the shoulders, 2 at the hips and 1 at the neck. These points allowed the figure to be posed in a variety of action poses.
Playful vs LJNEdit
Even though the Playful figure used the same basic design of the LJN figure, there were some differences between the two:
1. Shoulder Tube Color: While the color of the two plastic tubes attached to the shoulder of the LJN Hammerhand figure were purple in color, the Playful figure's tubes were painted black.
2. Helmet Horn Color: The Playful Hammerhand's helmet had two yellow colored horns while the horns on the LJN version were of different color, one being red and one yellow.
3. Arm and Boot Color: Sections of the LJN Hammerhand's mechanical right arm and left boot had silver paint to emphasize their metallic nature. In case of the Playful Hammerhand, both of these appendages were painted entirely black.
Other Variations and ReleasesEdit
Ad blocker interference detected!
Wikia is a free-to-use site that makes money from advertising. We have a modified experience for viewers using ad blockers

Wikia is not accessible if you've made further modifications. Remove the custom ad blocker rule(s) and the page will load as expected.