Playful Jackalman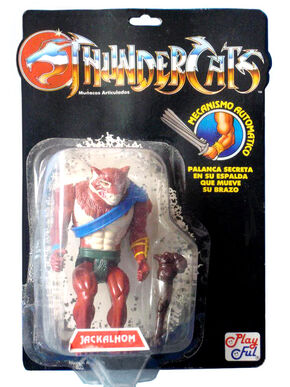 Jackalman or Chacalom was one of the first ThunderCats action figures produced by Playful Toys. The figure was based on the original 1980s cartoon version of Jackalman. Standing a solid 6 inches tall, the Jackalman figure had action features as well as poseable arms, legs and head, thanks to 5 points of articulation. The figure also came equipped with the Club and Shoulder Strap.
1. Battle-Matic Action: Just like LJN Jackalman, the Playful Jackalman figure had a lever on its back and depressing this lever with the forefinger would make the figure's right arm move up and down.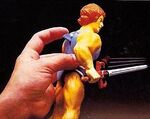 2. Poseable limbs and head: The Jackalman figure had 5 points of articulation, 2 at the shoulders, 2 at the hips and 1 at the neck. These points allowed the figure to be posed in a variety of action poses.
AccessoriesEdit
1.Club: The Club was made of brown plastic and designed to fit in the figure's Battle-Matic right hand. It was similar in appearance to the one shown on the ThunderCats cartoon show.
2.Shoulder Strap: Made of blue plastic, the Shoulder Strap was designed to fit over Jackalman's left shoulder.
| | |
| --- | --- |
| | |
| Club | Shoulder Strap |
Playful vs LJNEdit
Even though the Playful figure used the same basic design of the LJN figure, there were some differences between the two:
1. Shoulder Strap Color: The shoulder strap included with the Playful Jackalman is completely blue in color whereas the LJN figure's accessory was black with yellow spikes. Also the wrist-band on the Playful figure was blue in color while the LJN figure's was black.
2. Color Variation: The Playful Jackalman had cream color on its face and chest while the LJN figure's face was unpainted and its chest was yellow colored.
3. Club Color Variation: The overall color of the Playful Jackalman is slightly darker in tone than that of the LJN Jackalman.
| | |
| --- | --- |
| | |
| Playful Jackalman MOC | Playful Card Back |
Other Variations and ReleasesEdit
Ad blocker interference detected!
Wikia is a free-to-use site that makes money from advertising. We have a modified experience for viewers using ad blockers

Wikia is not accessible if you've made further modifications. Remove the custom ad blocker rule(s) and the page will load as expected.