Playful Thunderwings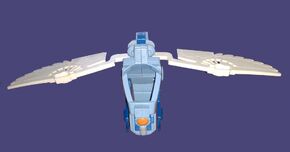 Thunderwings was one of the first ThunderCats vehicle produced by Playful Toys. The vehicle never appeared in any episode of the original 1980s ThunderCats cartoon. The Thunderwings had action features and could hold one ThunderCats figure.
1. Battle-Matic Action: Just like the LJN Thunderwings, the Playful Thunderwings' action feature involved the flapping of its gigantic white wings which was brought on by pushing the blue button located on the top of the toy.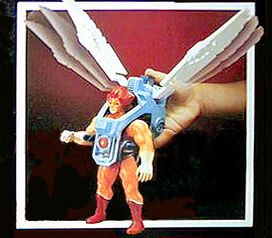 Thunderwings Action
AccessoriesEdit
1.Instruction Sheet: The Thunderwings came with an Instruction Sheet which had all the necessary assembly directions along with illustrations.
2.Two Wings: The Thunderwings also came with two white plastic wings which were to be attached to the main chassis.
| | |
| --- | --- |
| | |
| Two Wings | Instructions |
Playful vs LJNEdit
Despite being largely similar to each other, the wings of the Playful vehicle were made of a slightly translucent white plastic while that of the LJN vehicle were made of opaque white plastic.
Other Variations and ReleasesEdit
Ad blocker interference detected!
Wikia is a free-to-use site that makes money from advertising. We have a modified experience for viewers using ad blockers

Wikia is not accessible if you've made further modifications. Remove the custom ad blocker rule(s) and the page will load as expected.