Pop Culture Shock Lion-O Statue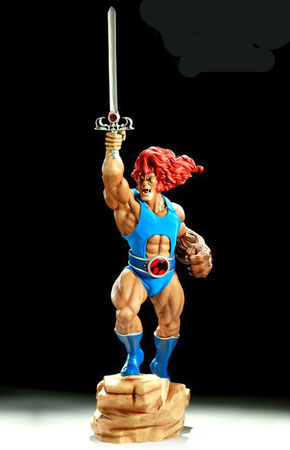 Official blurbEdit
"Here it is — the ultimate ThunderCats collectible. ThunderCats was one of most popular afternoon animated programs of the 1980s, with its cast of feline adventurers from the stars, making their home on a post-apocalyptic Earth ruled by the malevolent Mumm-Ra. The leader of the Thundercats, the magisterial Lion-O, is brought to life as a dynamic and massive 1/4-scale statue that stands over 34" tall. Sculpted by Khurram Alavi, this collectible will be limited to under 1,000 pieces and will include a signed Certificate of Authenticity signed by Jerry Macaluso".
Product descriptionEdit
Unveiled at the 2010 International Comic Convention, this 1/4 scale Lion-O statue was the first ThunderCats statue made by Pop Culture Shock. The look of the statue is inspired form the Ed McGuinness artwork from the popular "Reclaiming Thundera" comic book series.
Standing a massive 34 inches tall, the statue is cast in high quality polystone and dressed with real fabric. Pop Culture Shock Collectibles made two variations of the Lion-O statue. The second version of the statue featured eyes that light-up and was exclusive to "SideShow Collectibles". With incredible attention to fine detail, every single wrinkle, muscle and vein appear to come alive on this huge statue. Standing on a rocky outcrop with the Sword of Omens held high, the Lord of the ThunderCats is the epitome of power and majesty.
PrototypeEdit
Ad blocker interference detected!
Wikia is a free-to-use site that makes money from advertising. We have a modified experience for viewers using ad blockers

Wikia is not accessible if you've made further modifications. Remove the custom ad blocker rule(s) and the page will load as expected.