Rainbow Toys
Details
Country
U.K.
Industry
Toys
Headquarters
Manchester, Northampton
Licensed Properties
ThunderCats
Rainbow Toys was a toy company that operated in the U.K. They served as manufacturers and distributors of the ThunderCats toys for the U.K. and Ireland on behalf of the American company LJN Toys.
The company as at first situated in Oldham, Manchester in England. The address of their office was in the same building as another British Toy Company known as "Toy Options". For this reason, many of the Rainbow Toy ThunderCats figures' packaging bear the address of Toy Options.
Rainbow Toys then moved their offices from Oldham to Northampton. The move also involved a change in the company's logo, thus the ThunderCats toys that were produced later bore the new logo and address on their packaging.
Even though LJN stopped production and distribution of the ThunderCats toys in the U.S.A. soon after the end of the second season of the ThunderCats cartoon sometime in 1989, Rainbow Toys continued to manufacture and distribute the toys until as late as 1992. The ThunderCats toys were advertised prominently in many issues of the British catalog retailer "Argos".
Many of the Rainbow Toys packaging also had the safety "Lion Head" emblem printed on them. The "Lion Mark" indicated that the toy had been made by a member of the British Toy & Hobby Association and therefore denoted the member's commitment to adhere to the BTHA Code of Practice which included rules covering ethical and safe manufacture of toys, a ban on any counterfeit goods, an assurance to market responsibly, a commitment to improving sustainability and a desire to promote the value of all play.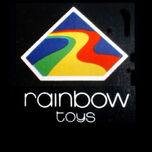 Rainbow Toys Second Logo

Despite slight variations in the design of some of the backing cards and the presence of the Rainbow Toys logo on them, most of the ThunderCats toys produced by Rainbow Toys were identical to their LJN counterparts. There were however some slight variations in some of the toys such as color variations and differences in the accessories.

All the Rainbow ThunderCats Toys came packaged with the orange/yellow Mini Catalogue. Unlike the LJN Toys, Rainbow Toys never had a purple/black mini catalog.

Apart from the action figures, vehicles and playsets, Rainbow Toys also manufactured a number of ThunderCats Games & Puzzles as well as toy guns and shooters.
CompanionsEdit
BerserkersEdit
Playsets & OthersEdit
TransportersEdit
Ad blocker interference detected!
Wikia is a free-to-use site that makes money from advertising. We have a modified experience for viewers using ad blockers

Wikia is not accessible if you've made further modifications. Remove the custom ad blocker rule(s) and the page will load as expected.