Rainbow Toys Astral Moat Monster
Astral Moat Monster was one of the first ThunderCats figures produced by Rainbow Toys. The figure was based on the original 1980s cartoon version of Astral Moat Monster. The Astral Moat Monster had poseable arms, legs and wings
Poseable limbs and wings: The Astral Moat Monster figure had 6 points of articulation, 2 at the shoulders, 2 at the hips and 2 at the back. These points allowed the figure to be posed in a variety of action poses.
Accessories
Edit
Two Wings: The Astral Moat Monster came with two detachable wings. These wings were made of red plastic and would be attached to the holes on the figure's back.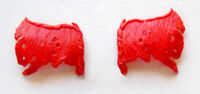 Two Wings
Rainbow Toys vs LJN
Edit
The Rainbow Toys Astral Moat Monster is identical in every aspect to the LJN Astral Moat Monster.
Foreign Variations and Releases
Edit
Astral Moat Monster Loose
(front)
Astral Moat Monster Loose
(back)
Ad blocker interference detected!
Wikia is a free-to-use site that makes money from advertising. We have a modified experience for viewers using ad blockers

Wikia is not accessible if you've made further modifications. Remove the custom ad blocker rule(s) and the page will load as expected.