Rainbow Toys Sword of Omens
Sword of Omens was the first and only ThunderCats weapons that was made into a child-sized toy by Rainbow Toys. The sword was based on the original 1980s cartoon version of Sword of Omens. The sword was 22" long and had the light-up feature.
Light-up Feature: The Eye of Thundera on Lion-O's mighty blade could be lit up by pressing a small button on the sword's handle. The sword light-up feature required one AA Alkaline battery to function. The battery compartment was located at the base of the handle and could be accessed by removing the bottom cap.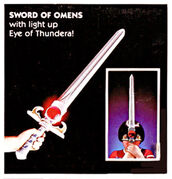 Light-up Action
Rainbow Toys vs LJN
Edit
The Rainbow Toys Sword of Omens is identical in every aspect to the LJN Sword of Omens.
Foreign Variations and Releases
Edit
Sword of Omens Loose
Ad blocker interference detected!
Wikia is a free-to-use site that makes money from advertising. We have a modified experience for viewers using ad blockers

Wikia is not accessible if you've made further modifications. Remove the custom ad blocker rule(s) and the page will load as expected.