Rainbow Toys Thundertank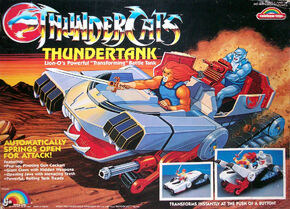 Details
Company
Rainbow Toys
Year
1985
Features
Spring open action to switch to attack mode, Moving wheels and tank treads, Holds Two Figures
Accessories
Two Rubber Treads, Instruction Sheet
Asst. #
3540
Toy Guide
Previous
Rainbow Toys Ram Bam
Next
Rainbow Toys Skycutter
Thundertank was one of the first ThunderCats vehicles produced by Rainbow Toys. The vehicle was based on the original 1980s cartoon version of Thundertank. The ThunderTank had action features as well as moving wheels and tank treads. The vehicle could seat two ThunderCats figures.
Battle-Matic Action: The iconic ThunderCats' vehicle was fitted with springs to allow it to transform into its "Attack Mode" just by depressing the blue switch on its rear. In this mode, the jaws are agape, the two claws are elevated, revealing cannons underneath them, and the top of the back opens up, revealing the pivoting cannon blaster. The Tank can be returned back to its cruise mode by pressing down the top of the jaws. The vehicle did not require batteries.
The vehicle had the capacity to seat two figures (not included), one in the driver's seat and one in the back compartment. Even though in the cartoons Panthro is shown to be driving the tank most of the time, the LJN toy version of the tank did not have enough room in the front to fit the LJN Panthro figure due to his slightly bent legs. This is why in most catalogues the LJN Lion-O figure is shown in the driver's seat.
Battle-Matic Action
Accessories
Edit
1.Rubber Treads: The ThunderTank came with two rubber treads made of black rubber. These would be fitted onto the left and right back wheels.
2.Instruction Sheet: The ThunderTank also came with an Instruction Sheet which had all the necessary assembly directions along with illustrations.
| | | |
| --- | --- | --- |
| | | |
| Rubber Treads | Lids | Instruction Sheet |
Rainbow Toys vs LJN
Edit
The Rainbow Toys Thundertank was identical in every aspect to the LJN Thundertank
Foreign Variations and Releases
Edit
Thundertank Loose
(closed)
Thundertank Loose
(open)
Ad blocker interference detected!
Wikia is a free-to-use site that makes money from advertising. We have a modified experience for viewers using ad blockers

Wikia is not accessible if you've made further modifications. Remove the custom ad blocker rule(s) and the page will load as expected.