Ta-She's Guards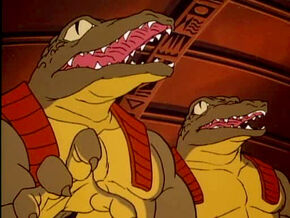 Ta-She's Guards are anthropomorphic alligators who are Ta-She's sole companions in the Time Warp Prison. They stand constantly by her side, ready to serve their princess. They also serve as oarsmen, rowing her giant ship. It seems that they are incapable of any kind of speech.
When Mumm-Ra freed Ta-She from her Time Warp Prison, her guards and her ship remained in the prison. However, since she was returned back to her prison by Cheetara, it is most likely that she reunited with her guards.
Appearances
Edit
012. The Doom-Gaze
Ad blocker interference detected!
Wikia is a free-to-use site that makes money from advertising. We have a modified experience for viewers using ad blockers

Wikia is not accessible if you've made further modifications. Remove the custom ad blocker rule(s) and the page will load as expected.