Tab Murphy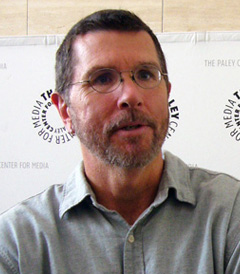 Details
Role
writer
Country
U.S.A., Washington
Other Works
Atlantis: The Lost Empire
The Hunchback of Notre Dame
Brother Bear
Tarzan
Teen Titans Go!
Page
List of all Cast & Crew
Tab Murphy is an American screenwriter who penned many episodes of the 2011 ThunderCats reboot series.
Murphy was born and raised in Olympia Washington. He then attended the USC Film School of Cinematic Arts in Los Angeles California. He started screenwriting in 1986 and co-wrote the biographical drama movie "Gorrilas in the Mist: The Story of Dian Fossey". The movie, starring Sigourney Weaver, earned him an Academy Award nomination. After that Murphy tried his had at directing the movie "Last of the Dogmen", which he also wrote.
Murphy then joined Disney where he worked for ten years and wrote screenplays of their animated feature films like "Tarzan", "Atlantis: The Lost Empire", and "The Hunchback of Notre Dame".
After leaving Disney, Murphy worked for Warner Brothers where he penned episodes of their DC animated shows like "Superman/Batman: Apocalypse" and "Batman: Year One".
Episodes WrittenEdit
02. Omens, Part II
05. Old Friends
06. Journey to the Tower of Omens
08. The Duelist and the Drifter
09. Berbils
17. Native Son
23. Recipe for Disaster

Ad blocker interference detected!
Wikia is a free-to-use site that makes money from advertising. We have a modified experience for viewers using ad blockers

Wikia is not accessible if you've made further modifications. Remove the custom ad blocker rule(s) and the page will load as expected.