The Formula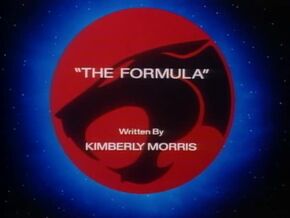 The Formula is an episode from the original series of ThunderCats. Written by Kimberly B. Morris, it originally aired on September 21, 1988.
When Alluro discovers that his new fuel formula causes living things to grow to giant size, he and Luna decide to use it against the ThunderCats.
Alluro, Luna and Amok try out the new fuel that Alluro has invented to enable Sky-Tomb to travel across space. The multi-octane, high potential, maximum velocity fuel formula proves to be too strong and sends Sky-Tomb zooming out of control. In order to stop it, Alluro dumps the super fuel over a meadow and immediately it causes all the flora and fauna in the area to grow to massive proportions. Alluro and Luna concur to hand over the Booster Juice to the Mutants so that they may employ it against the ThunderCats.
Slithe and Monkian spread the potent liquid on the vegetation surrounding Cats Lair, causing all the plants and insects to grow rapidly to enormous size. WilyKit, WilyKat, and Pumyra who were out on a picnic get trapped in the huge flora. When Lion-O goes to rescue them he too ends up getting attacked by a large beetle.
When Snarf and Lynx-O, who were at the Tower of Omens, come to the rescue, they are captured by the two Mutants who imprison them inside Castle Plun-Darr. By a stroke of luck, the two ThunderCats manage to escape from their cell and manage to manufacture an antidote to the Booster Juice inside Vultureman's laboratory. They then fly out in a SkyCutter and scatter the antidote over the affected areas.
CharactersEdit
LocationsEdit
Only two Mutants and two Lunataks appear in the episode.
This is one of the few episodes in which the ThunderCats have to face off against colossal insects. Another usch episode is "Return of the Driller".
The NoseDiver, which is a land and sea vehicle, is shown to be flying high in the sky in this episode.
Notable QuotesEdit
This episode was released on the following media:
Episode ScreenshotsEdit
External LinksEdit
Ad blocker interference detected!
Wikia is a free-to-use site that makes money from advertising. We have a modified experience for viewers using ad blockers

Wikia is not accessible if you've made further modifications. Remove the custom ad blocker rule(s) and the page will load as expected.