ThunderCats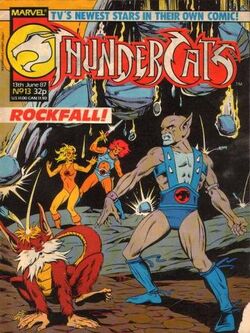 ThunderCats # 13 was an on-going comic book by Marvel Comics UK, which was based upon the original cartoon series of the ThunderCats.
Back To Thundera, part 1 of 2
Written by Gerry Conway
Art by Jose Delbo, DeMulder/Barras, Janice Chiang & Petra Scotese
In another back-in-time adventure, Lion-O and Cheetara venture back to ancient Thundera. They manage this feat when investigating a strange disturbance on a dark mountain near the Berbil village. Of course, Mumm-Ra is behind it all, even going so far as to separate the ThunderCats via a rockslide. His hope is that while Lion-O and Cheetara are gone, the other 'Cats will be destroyed by strange insectoid creatures. Homesickness motivates the pair to step through the tear in time atop the mountain, and at first, Lion-O and Cheetara are thrilled to be back on Thundera - even if it was several millenia before either were born. They also bond with some natives, saving one's life in the process. It wasn't until nightfall that they realize their place really is on Third Earth, and that you really can't go back home. They make it through the time rip just in time and rescue the others.
Ad blocker interference detected!
Wikia is a free-to-use site that makes money from advertising. We have a modified experience for viewers using ad blockers

Wikia is not accessible if you've made further modifications. Remove the custom ad blocker rule(s) and the page will load as expected.