ThunderCats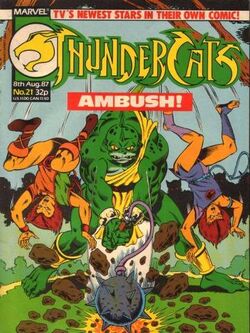 ThunderCats # 21 was an on-going comic book by Marvel Comics UK, which was based upon the original cartoon series of the ThunderCats.
Immortal Dreads, part 1 of 2:
Written by Gerry Conway
Art by Jose Delbo, Al Gordon, Janice Chiang & Petra Scotese
The ThunderCats are out in the Hunting Plains searching for a rumpa to spare themselves the sameness of Snarf's Berbil fruit Stew for dinner. Lion-O is ready to pack it in without a catch, but [[Panthro] won't give up. So they leave him to it. On the way back to the Lair, however, the hunters become the hunted. A pack of Vulturemen attack the group. They worry that Panthro is in for the same fate, off and isolated alone as he is...
Little do they know, but Panthro stumbles onto a different danger. An ancient, spiritual mess is what he gets himself into. Luckily, both his fellow ThunderCats and Panthro manage to escape immediate peril, but Panthro still wonders if spirits can cause harm and finds out the truth all to harshly come morning.
Free GiftEdit
Notes of InterestEdit
Preview GalleryEdit
Ad blocker interference detected!
Wikia is a free-to-use site that makes money from advertising. We have a modified experience for viewers using ad blockers

Wikia is not accessible if you've made further modifications. Remove the custom ad blocker rule(s) and the page will load as expected.