ThunderCats # 20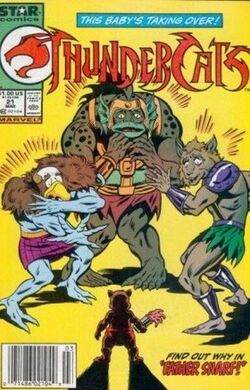 ThunderCats #21 was an ongoing comic book by Star Comics, which was based upon the original cartoon series of the ThunderCats.
Publishers Summary
Edit
Father Snarf
When a baby is left on the doorstep Snarf becomes a father. However, the Mutants kidnap the critter. But these villains will soon discover that it's easier to deal with the Thundercats than it is rearing a new born. A humorous tale in the life of the Thundercats.
Notes of Interest
Edit
A plaque by Canineville's entrance reads "Est. 1785 A.D."
Ad blocker interference detected!
Wikia is a free-to-use site that makes money from advertising. We have a modified experience for viewers using ad blockers

Wikia is not accessible if you've made further modifications. Remove the custom ad blocker rule(s) and the page will load as expected.