ThunderCats Classics Minimates Series_1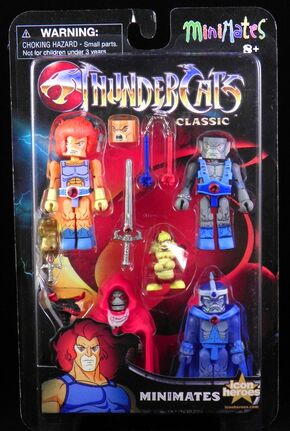 Official BlurbEdit
"Fleeing their dying homeworld, the THUNDERCATS have settled on Third Earth, a strange planet populated by fantastic creatures. LION-O, the Lord of the THUNDERCATS, will need the wisdom of his departed teacher JAGA, as well as the strength of his comrade PANTHRO, to keep his people safe. Especially since the evil sorceror MUMM-RA has his sights on Lion-O's Sword of Omens, which contains the powerful Eye of Thundera. THUNDERCATS, Ho!"
Product DescriptionEdit
Released as a San Diego Comic-Con (SDCC) 2012 Exclusive, the ThunderCats Minimates Classic Series 1 box set included:
The set also included an alternate head for Lion-O, Two versions of the Sword of Omens (both short and long versions), a removable Claw Glove which can also attach to Lion-O's left hip, Nunchucks for Panthro and a staff for Mumm-Ra.
| | |
| --- | --- |
| | |
| Loose Minimates | Back of the box |
Review VideoEdit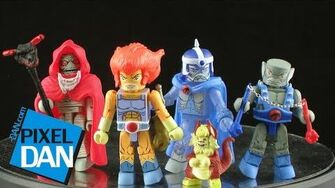 Ad blocker interference detected!
Wikia is a free-to-use site that makes money from advertising. We have a modified experience for viewers using ad blockers

Wikia is not accessible if you've made further modifications. Remove the custom ad blocker rule(s) and the page will load as expected.