ThunderCats Classics Minimates Series 3
Official BlurbEdit
"Stranded on Third Earth following the destruction of their planet, the Thunderians did their best to make this strange world their new home. Super-fast warrior CHEETARA, brilliant scientist TYGRA and youngsters WILYKIT and WILYKAT each played their part in rebuilding their civilization, although they needed the help of the robotic RO-BEAR BERBIL BILL to construct their majestic headquarters, the Cats Lair".
Product DescriptionEdit
Released in the spring of 2013, The ThunderCats Minimates Classic Series 3 box set included:
Each figure came with its own signature weapon. The weapons were Bolo whip, Baton staff, Two Space boards, and Two Lassos.
| | |
| --- | --- |
| | |
| Loose Minimates | Back of the box |
Video ReviewEdit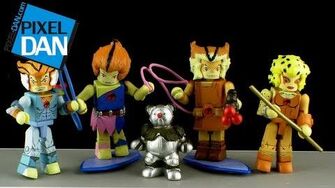 Ad blocker interference detected!
Wikia is a free-to-use site that makes money from advertising. We have a modified experience for viewers using ad blockers

Wikia is not accessible if you've made further modifications. Remove the custom ad blocker rule(s) and the page will load as expected.