ThunderCats Classics Minimates Series 4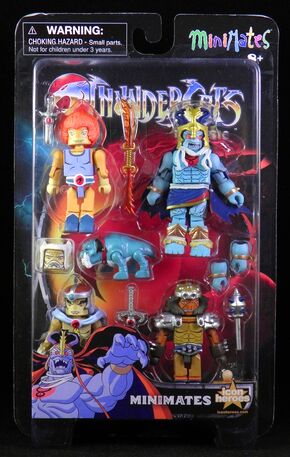 Official BlurbEdit
"As his homeworld crumbled around him, young Prince Lion-O fled Thundera with the noble Jaga. Jaga would sacrifice himself to ensure his ward reached the safety of Third Earth, but little did he know the dangers the boy would face, most notably his old foe Grune the Destroyer and a new threat, Mumm-Ra the Ever-Living. Includes bonus Ma-Mutt Minimate!".
Product DescriptionEdit
Released as a San Diego Comic-Con (SDCC) 2013 Exclusive, the ThunderCats Minimates Classic Series 4 box set included:
The set also included an alternate head for Jaga, 2 versions of the Sword of Omens (both short and long versions), Sword of Plun-Darr, and a Battle Club.
| | |
| --- | --- |
| | |
| Loose Minimates | Back of the box |
Video ReviewEdit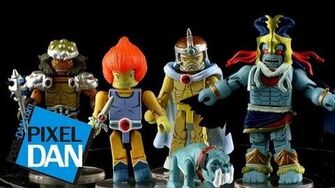 Ad blocker interference detected!
Wikia is a free-to-use site that makes money from advertising. We have a modified experience for viewers using ad blockers

Wikia is not accessible if you've made further modifications. Remove the custom ad blocker rule(s) and the page will load as expected.