ThunderCats Ho! - Part IV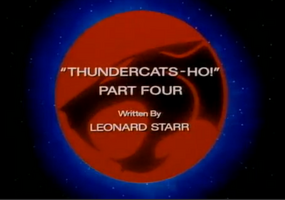 ThunderCats Ho! - Part IV is an episode from the original series of ThunderCats. Written by Leonard Starr, it originally aired on September 10, 1986.
Snarf and the Tuskas take on Ratar-O and the Bereserkers while Lion-O's passage to Fire Rock Mountain is barred by none other than Hachiman.
Lion-O manages to break free from the mummy wrappings after they are weakened by sunlight. Meanwhile on Hook Mountain, Tygra, Cheetara and the Snowman help to free Panthro who was pinned underneath the ThunderTank after he was attacked by Ratar-O. All the ThunderCats then continue their journey towards Fire Rock Mountain.
While flying over Tuskania, the RatStar is attacked by the Tuskas who free Snarf. After telling Turmagar about what has transpired, Snarf and he make their way to the beach where they overhear the Berserkers planning to recapture the Thunderian refugees in order to extort more gold from Mumm-Ra. With the help of the Gomplin, Snarf and Turmagar tow the Berserkers' Ship out to sea while the vile Vikings give chase. Snarf also manages to free Ro-Bear Bob and Ro-Bear Bert from the ship.
Mumm-Ra summons Hachiman and convinces him that Lion-O is responsible for imprisoning his great uncle Nishida's spirit. Believing Mumm-Ra's lies, Hachiman confronts Lion-O on top of a narrow land bridge on Fire Rock Mountain. Refusing to fight a friend, and weakened by the Thundrainium, Lion-O loses his footing and ends up hanging precariously over the bridge while Hachiman looms over him with sword drawn.
CharactersEdit
LocationsEdit
Notable quotesEdit
This episode was released on the following media:
Storybooks
Edit
Episode ScreenshotsEdit
External LinksEdit
Ad blocker interference detected!
Wikia is a free-to-use site that makes money from advertising. We have a modified experience for viewers using ad blockers

Wikia is not accessible if you've made further modifications. Remove the custom ad blocker rule(s) and the page will load as expected.