Panini Sticker Album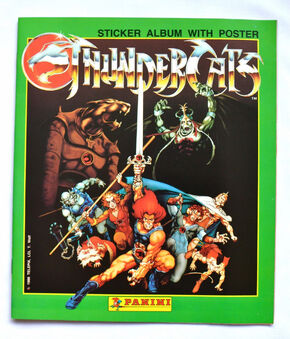 Production
Format
Softcover
Released
1986
Published by
Panini
Chronology
The Italian based "Panini" publishing company, which is known for producing books, comics, magazines, stickers, trading cards all over the world, also made the ThunderCats Sticker Album in 1986.
A total of 264 stickers were released in small baseball-card sized packets. These stickers were mainly screenshots from a number of episodes of the cartoon show such as:
The stickers were to be placed in their correct numbered box in the album in order to complete each story.
The album also came with a large pull-out poster which had spaces for a few stickers as well. These stickers were differentiated from the ones that were to be placed in the album by their silver background.
The Sticker Album was released in a number of different languages including Dutch, French, Italian, Spanish and Portuguese.
Ad blocker interference detected!
Wikia is a free-to-use site that makes money from advertising. We have a modified experience for viewers using ad blockers

Wikia is not accessible if you've made further modifications. Remove the custom ad blocker rule(s) and the page will load as expected.