ThunderCats Satchel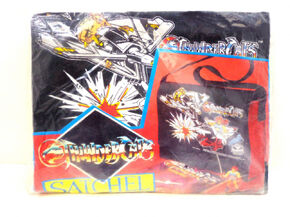 Details
Company
Frankel & Roth (Int) Ltd.
Year
1985
Type
Stationery
Size
12" x 10"

The ThunderCats satchel was one of the many school-related ThunderCats merchandise that was released in the 1980s. It was made by the "Frankel & Roth" company. The satchel is made of thick black fabric and has a shoulder strap as well as velcro fasteners. The side of the bag was made of red fabric.
The front of the bag had an illustration of Lion-O driving the ThunderTank and battling with Monkian who is piloting the SkyCutter.
The satchel could be used for many purposes but was mainly used as a school bag to carry books and other stationery.
Ad blocker interference detected!
Wikia is a free-to-use site that makes money from advertising. We have a modified experience for viewers using ad blockers

Wikia is not accessible if you've made further modifications. Remove the custom ad blocker rule(s) and the page will load as expected.