Thundercats: Enemy's Pride 1/5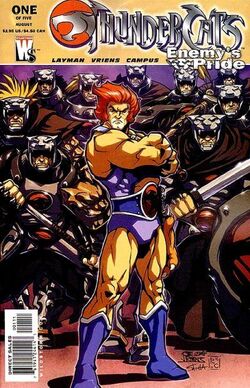 Thundercats: Enemy's Pride # 1 was the first issue in a five part mini-series.
A new miniseries pits 'Cat vs 'Cat! When Lion-O begins acting strangely and making reckless decisions, only the Thunderkittens take notice. Unfortunately, no one listens to them&nbsp and the Thundercats are about to discover that their greatest menace may come from within.
Ad blocker interference detected!
Wikia is a free-to-use site that makes money from advertising. We have a modified experience for viewers using ad blockers

Wikia is not accessible if you've made further modifications. Remove the custom ad blocker rule(s) and the page will load as expected.