ThunderCats: Enemy's Pride 2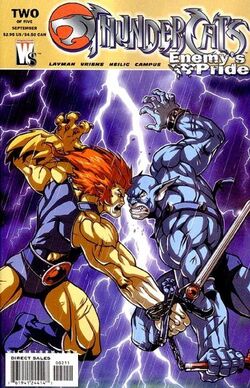 ThunderCats: Enemy's Pride # 2 was the second issue in a five-part limited series by Wildstorm Comics.
Best Served Cold:
The latest ThunderCats miniseries continues as the 'Cats face a threat from within! Lion- O's idea for a Thunderguard seemed like a good one. But now the Thunderians' last line of defense appears to be going on the offense, making enemies out of allies and turning friend against friend. Knowing your king isn't right in the head is one thing; stopping him is another!
CharactersEdit
Due to inconsistencies and contradictions, the ThunderCats comics by WildStorm should not be considered canon to the original 1980s animated television series. Readers should instead consider them as separate or alternative canon.
Preview Comic PanelsEdit
Ad blocker interference detected!
Wikia is a free-to-use site that makes money from advertising. We have a modified experience for viewers using ad blockers

Wikia is not accessible if you've made further modifications. Remove the custom ad blocker rule(s) and the page will load as expected.