ThunderCats: Enemy's Pride 5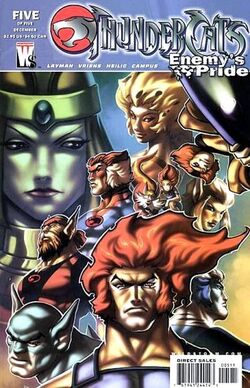 ThunderCats: Enemy's Pride # 5 was the final issue in a five-part limited series by Wildstorm Comics.
Animas Acme:
The thrilling miniseries concludes with the battle to end all battles! What action will WilyKat take against his old friends? And who holds the key to stopping the ThunderGuard and its power-mad leader? Could it really be...Snarf to the rescue?
CharactersEdit
LocationsEdit
Preview Comic PanelsEdit
Ad blocker interference detected!
Wikia is a free-to-use site that makes money from advertising. We have a modified experience for viewers using ad blockers

Wikia is not accessible if you've made further modifications. Remove the custom ad blocker rule(s) and the page will load as expected.