Thundercats: Hammer Hands Revenge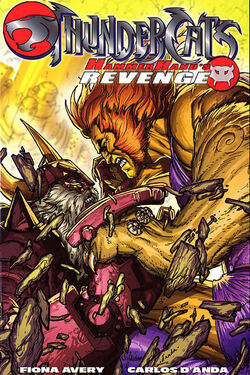 Production
Pages
144
Original Price
$14.95 US
Chronology
Thundercats: Hammers Revenge was released as a trade paperback by WildStorm comics in October 2004.
Publishers SummaryEdit
Collecting the 5-issue miniseries by Fiona Avery (Witchblade) and Carlos D'Anda (BIONICLE)! Hammerhand and the Berzerkers are back — and they've captured Hachiman in an attempt to ransom him to the Japanese Empire! It's the ThunderCats to the rescue... but will it end in disaster?
Ad blocker interference detected!
Wikia is a free-to-use site that makes money from advertising. We have a modified experience for viewers using ad blockers

Wikia is not accessible if you've made further modifications. Remove the custom ad blocker rule(s) and the page will load as expected.