Thundercats: Hammerhand's Revenge 4/5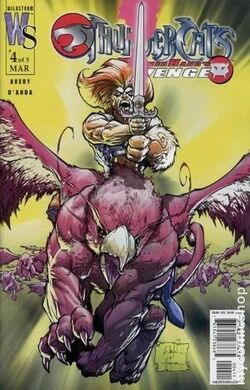 Thundercats: Hammerhands Revenge 4 was the fourth issue in the five part mini-series.
The penultimate chapter in the Hammerhand story! Lion-O has forged an alliance between the Griffins and the Thundercats against the evil Hammerhand and his Beserkers ? now it's an all-out battle between 'Cats and Pirates! Meanwhile, Hammerhand is planning his ultimate betrayal against the Samurai Empire and the final fate of Hachiman. Retailers
Variant Cover(s)
Edit
Ad blocker interference detected!
Wikia is a free-to-use site that makes money from advertising. We have a modified experience for viewers using ad blockers

Wikia is not accessible if you've made further modifications. Remove the custom ad blocker rule(s) and the page will load as expected.