Thundercats: Reclaiming Thundera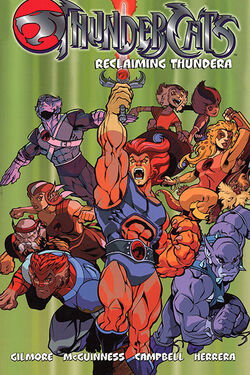 Production
Pages
134
Original Price
$12.95
Chronology
Publishers SummaryEdit
Collecting the first thrilling miniseries featuring the ThunderCats! Picking up where the television series ended, Lion-O begins to rebuild a new life for his people on New Thundera. But all is not as it seems...there are dark stirrings at Mumm-Ra's Pyramid. The Ancient Spirits of Evil seek to unleash the Shadowmaster from the Shadow Realm...and it might just spell doom for our heroes!
Ad blocker interference detected!
Wikia is a free-to-use site that makes money from advertising. We have a modified experience for viewers using ad blockers

Wikia is not accessible if you've made further modifications. Remove the custom ad blocker rule(s) and the page will load as expected.