Thundercats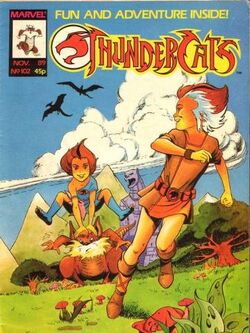 Thundercats # 102 is a comic book released by Marvel UK and is based on the cartoon series.
World in Chaos, part 5 of 6:
Written by Simon Furman and Ian Rimmer
Art by Jeff Anderson, Dave Harewood, Glib & Euan Peters
To The Victor, The Spoils, part 2 of 2:
Written by Gerry Conway Art by Jose Delbo, Al Gordon, Chiang & Scotese
In this adventure, the Mutants are sure Mumm-Ra is weak enough to defeat. They plan to destroy him and rule Fourth Earth, after Third Earth dies. Wilykit and Lion-O are out doing their part to make sure Third Earth doesn't die by finishing their part of the planet's map. They happen to be mapping the area near Mumm-Ra's realm, which is also where the Mutants are lurking. Wilykit and [[Wilykat], who is also there, want to continue with the map but Lion-O insists on seeing what the Mutants are up to.
Mumm-Ra uses his power to reveal the Thundercats' presense to the Mutants in the hope they'll delay their attack on him and go for the 'cats instead. This will buy him time enough to get energized for a battle. The Mutants took the bait and attack, managing to grab WilyKit. Lion-O then has no choice but to do as Slithe commands, which is to go into the Pyramid and face Mumm-Ra with the Sword of Omens. Lion-O has heard that Mumm-Ra is supposedly very weak and figures disposing of him will be easy - until he arrives to be faced with a larger than life Mumm-Ra.
Free GiftEdit
A pull-out map of Third Earth - Part 5
Notes of InterestEdit
Ad blocker interference detected!
Wikia is a free-to-use site that makes money from advertising. We have a modified experience for viewers using ad blockers

Wikia is not accessible if you've made further modifications. Remove the custom ad blocker rule(s) and the page will load as expected.