ThunderCats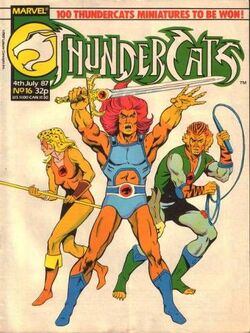 ThunderCats # 15 is a comic book released by Marvel UK and is based on the original cartoon series.
To The Victor, The Spoils, part 2 of 2
Written by Gerry Conway
Art by Jose Delbo, Al Gordon, Janice Chiang & Petra Scotese
Notes of interestEdit
Ad blocker interference detected!
Wikia is a free-to-use site that makes money from advertising. We have a modified experience for viewers using ad blockers

Wikia is not accessible if you've made further modifications. Remove the custom ad blocker rule(s) and the page will load as expected.