ThunderCats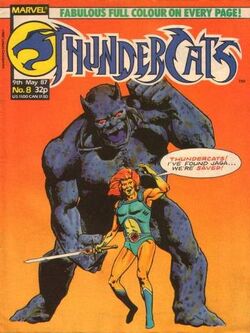 ThunderCats # 8 was an on-going comic book by Marvel Comics UK, which was based upon the original cartoon series of the ThunderCats.
Mumm-Ra Times Three, part 2 of 2:
Written by David Micheline
Art by Jim Mooney, Jim DeMulder, Jannice Chiang & Nelson Yomton
Notes of InterestEdit
Preview GalleryEdit
Ad blocker interference detected!
Wikia is a free-to-use site that makes money from advertising. We have a modified experience for viewers using ad blockers

Wikia is not accessible if you've made further modifications. Remove the custom ad blocker rule(s) and the page will load as expected.