Thundercats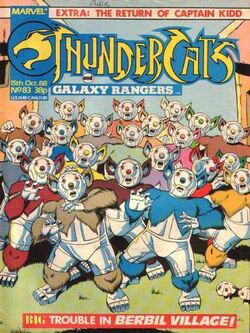 Thundercats # 83 is a comic book released by Marvel UK and is based on the original cartoon series.
Sixth Sense, part 1 of 4:
Written by Dwight Jon Zimmerman
Art by Gary Leech, Phil Felix & Euan Peters
Bear Necessities:
Written by Steve Alan
Ro-Bear Bert, one of the Berbils who rescued Bengali, Pumyra and Lynx-O from Thundera, are finding it hard to settle down to life on Third Earth. One day, while he was at the Berbil Employment Office, the earth shook and he raced out to find the Berbil village in ruins. The only clue was a giant footprint. From this, he was able to work out who had caused the damage and save the Berbils from harm. As a result, he gets a fully paid job on the Berbil High Council.
Free GiftEdit
Note of InterestEdit
'Bear Necessities' is a retelling of a television episode called of Bear Necessities.
Issue 83 is the last comic book to be shared by both the ThunderCats and Galaxy Rangers.
Ad blocker interference detected!
Wikia is a free-to-use site that makes money from advertising. We have a modified experience for viewers using ad blockers

Wikia is not accessible if you've made further modifications. Remove the custom ad blocker rule(s) and the page will load as expected.