Bad Playmates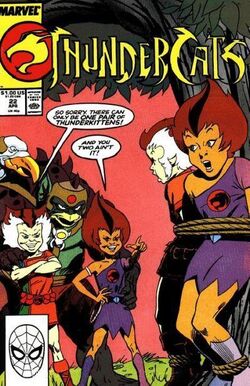 ThunderCats #22 was an ongoing comic book by Star Comics, which was based upon the original cartoon series of the ThunderCats.
Publishers Summary
Edit
Bad Playmates
As the Thundercats battle Mumm-Ra in the form of a fire-breathing dragon, Vultureman unleashes his latest invention -evil robot versions of the Thunderkittens.
Ad blocker interference detected!
Wikia is a free-to-use site that makes money from advertising. We have a modified experience for viewers using ad blockers

Wikia is not accessible if you've made further modifications. Remove the custom ad blocker rule(s) and the page will load as expected.