Trollberry Bushes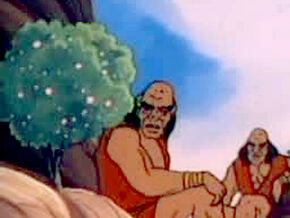 Trollberry Bushes are one of the many types of plants indigenous to Third Earth. The Trollberry Bushes are like medium sized trees. They grow in one place only, high on the mountain tops where the evil Giantors live. The leaves of the Trollberry Bushes are the only food that the Trollogs can eat.
The Giantors are well aware of the Trollogs reliance on the Trollberry Bushes and thus they use them to blackmail the Trollogs into doing their bidding, like raiding the Berbil Village to steal the Berbil Fruit for them. Every time the Trollogs fail, the Giantors uproot one of the Trollberry Bushes.
AppearancesEdit
003. Berbils (episode)
Ad blocker interference detected!
Wikia is a free-to-use site that makes money from advertising. We have a modified experience for viewers using ad blockers

Wikia is not accessible if you've made further modifications. Remove the custom ad blocker rule(s) and the page will load as expected.