Two-Time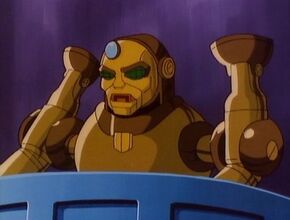 Two Time is the robotic master of Dome-Down, an incredibly massive and technologically advanced spaceship. He has heads on both ends of his body which he is able to interchange by rotating at will. Two-Time can project an energy beam from his forehead(s) that will invert its target, making people float helplessly upside down.
Once, Two-Time had captured a family of Thunderian refugees near the Churning Rocks on New Thundera. Later on he ambushed an Ecology Inspector who was coming to inspect the New Cats Lair.
Appearances
Edit
113. Return to Thundera - Part III
126. Swan Song

Ad blocker interference detected!
Wikia is a free-to-use site that makes money from advertising. We have a modified experience for viewers using ad blockers

Wikia is not accessible if you've made further modifications. Remove the custom ad blocker rule(s) and the page will load as expected.