Visitors from Space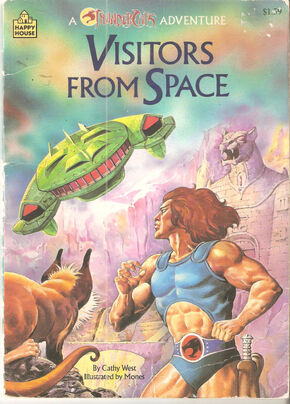 Production
Format
Softcover
Released
June, 1987
Published by
Happy House
Story by
Cathy West.
Adapted from Teleplay
by Peter Lawrence
Illustrated by
Mones
Pages
24
Chronology
Visitors from Space was an illustrated softcover ThunderCats storybook that was published by Happy House in 1987. This book is a retelling of the ThunderCats episode Good and Ugly.
Official Blurb
Edit
One visitor from space looks evil. Another looks kind. But appearances can be very deceiving, as the ThunderCats soon find out!
Ad blocker interference detected!
Wikia is a free-to-use site that makes money from advertising. We have a modified experience for viewers using ad blockers

Wikia is not accessible if you've made further modifications. Remove the custom ad blocker rule(s) and the page will load as expected.